PRESS RELEASES
Project and Loan Agreements for Luoyang Metro Project signed in Zhengzhou, China
16-Aug-2018
On 16 August 2018, Project and Loan Agreements for the New Development Bank's Luoyang Metro Project were signed in Zhengzhou, the capital city of Henan Province, China. According to the Agreements, the Bank will provide a USD 300 million sovereign project loan to the People's Republic of China to be on-lent to the People's Government of Henan Province to support the construction of the first metro line in the city of Luoyang.
The Project Agreement was signed by Mr. K. V. Kamath, the NDB President and Mr. Chen Run'er, the Governor of Henan Province. The Loan Agreement was signed by Mr. Shaohua Wu, the NDB Director General for Project Financing and Mr. Zhang Zhengwei, Deputy Director General, Department of International Economic and Financial Cooperation, Ministry of Finance of China.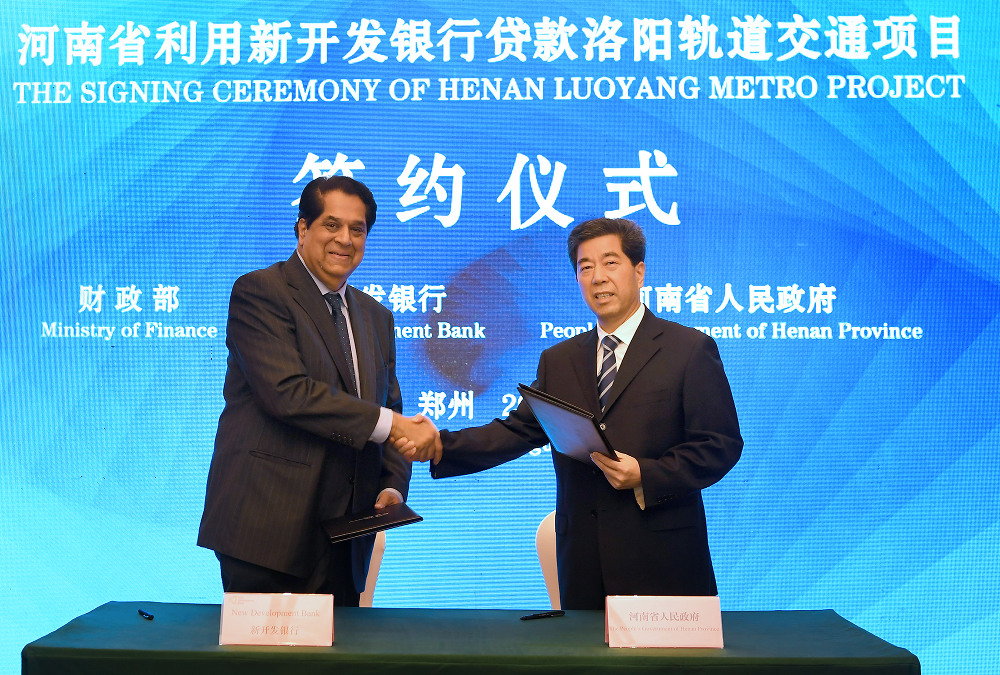 "The NDB is happy to be able to support this important project in Henan province, the birthplace of Chinese civilization with over 3,000 years of recorded history," said Mr. K. V. Kamath. "The Luoyang Metro Project will contribute to further strengthen the city's important role as a cultural, tourist, and economic center in China. The project is in line with NDB's mandate of financing infrastructure and sustainable development. We hope that this project as well as other similar projects supported by the Bank will act as catalysts for further development in our member countries."
The Luoyang Metro Project involves the construction of the city's first metro line (Line 1) with a total route length of 22.34 km. The line will run through the historical center of the Luoyang and will decongest heavy traffic in the dense urban areas. The operations of the line are scheduled to commence in December 2021. It is expected that the line could reach a capacity to carry more than 500,000 passengers on a daily basis by 2046.
Background Information
The New Development Bank is a multilateral development bank established by Brazil, Russia, India, China and South Africa in 2014. The Bank is mandated to mobilize resources for infrastructure and sustainable development projects in BRICS and other emerging economies and developing countries, complementing the efforts of multilateral and regional financial institutions for global growth and development. The NDB received a long-term issuer default rating of 'AA+' with a stable outlook from Fitch Ratings.