On July 26, 2023, H.E. Mrs. Dilma Rousseff, President of the New Development Bank (NDB), met with H.E. Mr. Vladimir Putin, President of the Russian Federation, on the sidelines of the Second Russia-Africa Summit.
During the meeting, the important role of the NDB as a multilateral development bank founded by the BRICS countries to mobilize resources for infrastructure and sustainable development projects in BRICS and other emerging economies and developing countries (EMDCs) was discussed. It was noted that the NDB seeks to contribute to the growth of the Global South by supporting its member countries in their efforts to achieve their development goals and to fulfil their environmental commitments.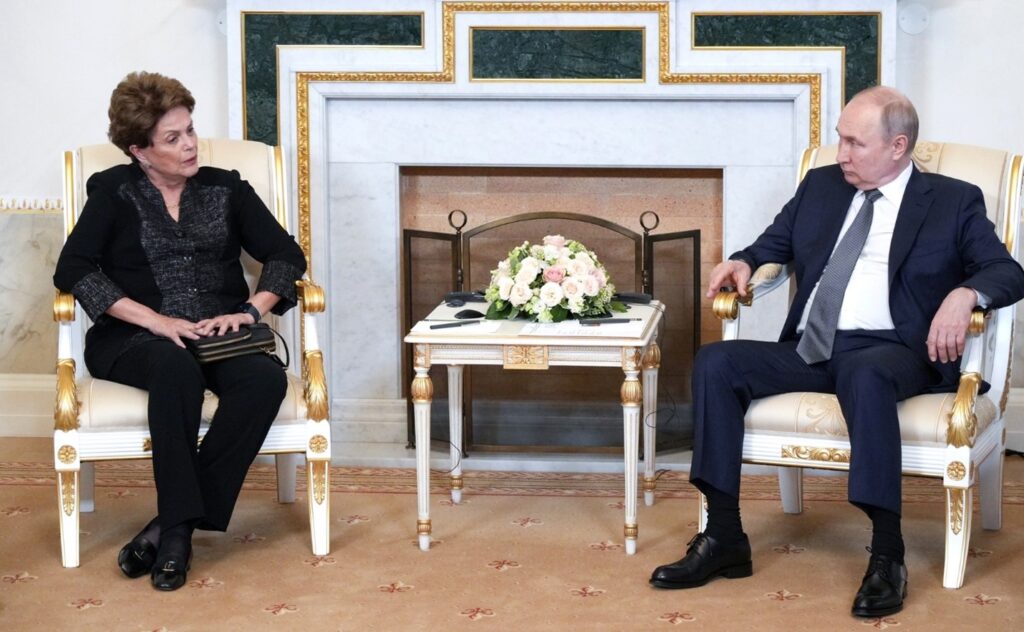 President Vladimir Putin met President Dilma Rousseff at the Constantine Palace in St. Petersburg
President Dilma Rousseff highlighted that, in line with the NDB's General Strategy for 2022-2026, the Bank is focusing on expanding local-currency financing and raising funds in the domestic markets of its member countries. Over the five-year strategy period, NDB aims to provide 30% of its total financing commitments in national currencies of member countries.
It was noted by President Rousseff that the NDB was created to be a global institution with a base of stakeholders that reflects its focus on EMDCs, and that the Bank therefore prioritizes expansion of its membership, which she expects to grow consistently in the upcoming years.
President Dilma Rousseff also commented on the significance of the forthcoming 15th BRICS Summit in South Africa for the New Development Bank, and expressed her optimism about the opportunities this meeting presents for the Bank to take part in high-level discussions of the challenges currently facing developing countries.