PRESS RELEASES
New Development Bank and European Investment Bank Discuss Potential Areas of Cooperation in Shanghai
23-Mar-2017
The President of the New Development Bank Mr. K.V.Kamath and the Vice President of European Investment Bank Mr. Jonathan Taylor had a meeting today at the NDB Transitional Office in Shanghai, China and discussed issues of mutual interest, including potential areas of cooperation at operational and institutional levels. NDB Vice Presidents Mr. Paulo Nogueira Batista Jr., Mr. Vladimir Kazbekov, Mr. Xian Zhu and Mr. Leslie Maasdorp also took part in the meeting.
The European Investment Bank is owned by the 28 European Union member states. The European Investment Bank I world's largest international public bank and one of the largest financiers of climate related investment worldwide.
"It is a matter of great pleasure to meet Mr. Jonathan Taylor in Shanghai. The potential for cooperation between our institutions is great and we are interested in exploring the areas, in which we could work together," said Mr. K.V.Kamath. "The NDB aims to make a positive difference by complementing the efforts of other multilateral development banks, including the EIB," he added.
Speaking after discussions with President Kamath and his colleagues EIB Vice President Jonathan Taylor highlighted that "The European Investment Bank and New Development Bank share common the goals of supporting long-term investment in renewable energy and climate related investment. Our institutions have worked closely during the formation stage of the NDB and we look forward to strengthening this cooperation to jointly support transformational infrastructure around the world."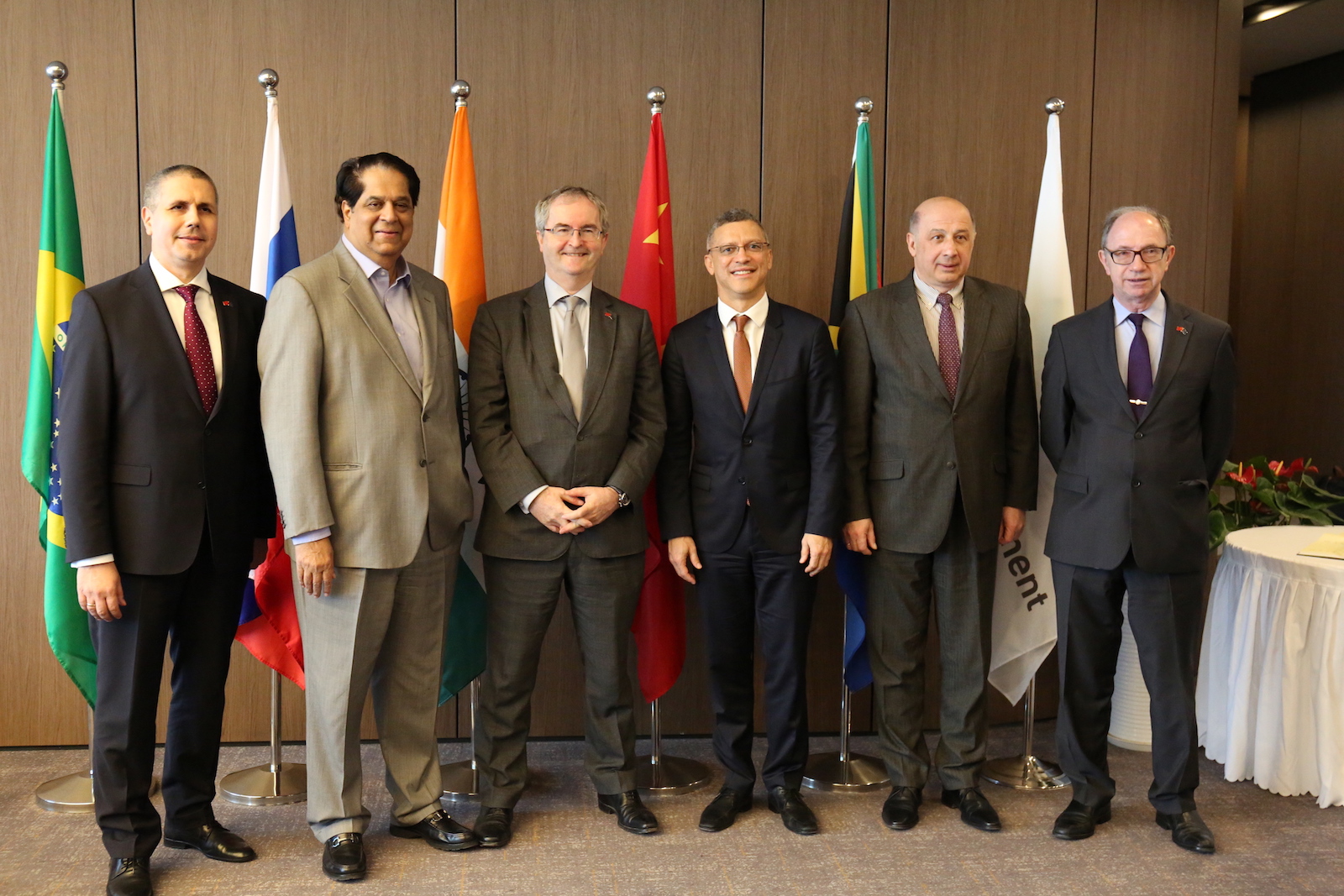 Next week Werner Hoyer, President of the European Investment Bank will attend the Annual Meetings of the New Development Bank in New Delhi and sign a memorandum of understanding to structure future cooperation between the two institutions.
"Discussions today confirmed progress on strengthening cooperation across a range of areas including institutional issues, project assessment, staffing and funding including green bonds and highlighted a range of areas of expected future cooperation. I am pleased to confirm that next week the EIB and NDB will formally agree to strengthen cooperation in the years ahead. Close cooperation between international financial institutions strengthens our shared priority of supporting new investment that improves lives and transforms economic opportunities," added Jonathan Taylor.
Background information
The New Development Bank was created with an objective of financing infrastructure and sustainable development projects in BRICS and other emerging economies and developing countries. The Bank will complement the efforts of other financial institutions and establish a network of global, regional and local partnerships with multilateral and national development banks as well as other institutions and market players.
The European Investment Bank was created in 1957 and in 2016 the European Investment Bank Group provided EUR 84 billion to finance new investment around the world, including EUR 19.6 billion for climate-related investment.
The EIB is the long-term lending institution of the European Union owned by its Member States. It makes long-term finance available for sound investment in order to contribute towards EU policy goals.
Contacts
NDB: Alexey Kosarev, +86-185-2105-0330 kosarev.alexey@ndb.int
European Investment Bank: Richard Willis, +352 621555758, willis@eib.org