PRESS RELEASES
New Development Bank and BRICS Business Council Strengthen Cooperation
1-Sep-2017
On 1 September 2017, the New Development Bank (NDB) and BRICS Business Council (BBC) held the second NDB – BBC Dialogue in Shanghai, during the BRICS Business Council Annual Meeting 2017, in the run-up to the 9th BRICS Summit in Xiamen, China. The two sides reaffirmed their commitment to strengthen and promote cooperation. Key agenda items were based on the discussions during the first meeting of NDB – BBC Dialogue held in New Delhi on the sidelines of the NDB Second Annual Meeting of the Board of Governors on 1 April 2017.
"We see a great potential for our cooperation that helps the Bank access the markets of the five BRICS countries, particularly as the NDB is planning to expand non-sovereign operations with the private sector as the operational capability of the Bank evolves," said Mr. K.V.Kamath, the President of the New Development Bank.
"The NDB looks forward to further expanding our regular contacts with BRICS Business Council. It is an excellent partnership, where members can learn from each other and build business together," highlighted Mr. K.V.Kamath.
"A lot of progresses have been made since the first meeting between BBC and NDB with the joint efforts of both sides. In the next step, the BBC will identify qualified infrastructure and sustainable projects with the NDB, and the financial institutions of the BBC will also render support for the development of the NDB. The BBC is willing to further enhance communication and collaboration with the NDB at all levels, working together to contribute more to the closer economic, trade and investment ties amongst the BRICS countries," said Capt. Xu Lirong, the Chairman of China Section of BRICS Business Council.
The NDB and BRICS Business Council are partnering to strengthen a robust and dynamic pipeline of bankable projects that are aimed at benefiting people in all member countries of the Bank. There is a special emphasis on the cooperation between NDB and Council members in the financial sector.
The NDB and BBC are planning to formalize their close and successful relationship by signing a Memorandum of Understanding outlining key areas for cooperation during the forthcoming Xiamen Summit in the presence of BRICS Leaders.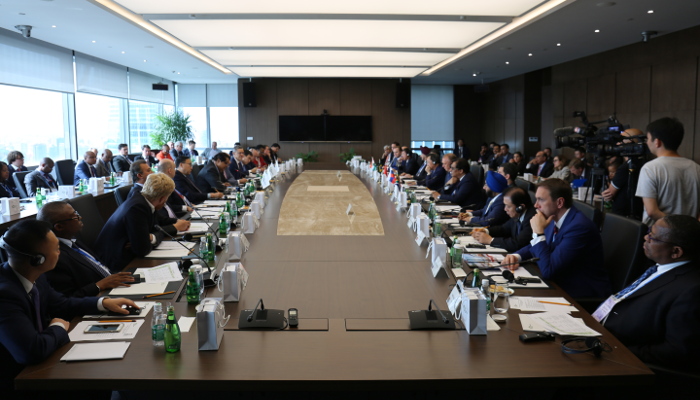 Background Information
The NDB was established by Brazil, Russia, India, China and South Africa to mobilize resources for infrastructure and sustainable development projects in BRICS and other emerging economies and developing countries, complementing the existing efforts of multilateral and regional financial institutions for global growth and development.
According to the NDB's General Strategy: 2017 – 2021, sustainable infrastructure development will be the primary emphasis of the Bank's operations in the next five years.
The BBC is a platform aimed at strengthening and promoting economic, trade, business and investment ties between the business communities of the BRICS countries. The Council is composed of 25 prominent entrepreneurs from Brazil, Russia, India, China and South Africa, representing various industries and sectors in the BRICS nations.
Contacts
NDB Media requests: Alexey Kosarev, +86-185-2105-0330, kosarev.alexey@ndb.int
BBC Media requests: SHEN Yue, +86-150-2186-8878, brics2017@coscoshipping.com