PRESS RELEASES
NDB President and Brazil's Minister of Finance and Minister of Foreign Affairs sign Agreement on the Hosting of the Bank's Americas Regional Office in São Paulo
26-Jul-2018
New Development Bank and the Government of the Federative Republic of Brazil signed today an Agreement on the Hosting of the New Development Bank Americas Regional Office (ARO) in the Federative Republic of Brazil. The Agreement was signed in Johannesburg, South Africa by Mr. K.V. Kamath, the NDB President, Mr. Aloysio Nunes Ferreira, the Minister of Foreign Affairs of Brazil, and Mr. Eduardo Refinetti Guardia, the Minister of Finance of Brazil, Vice-Chairman of the Bank's Board of Governors.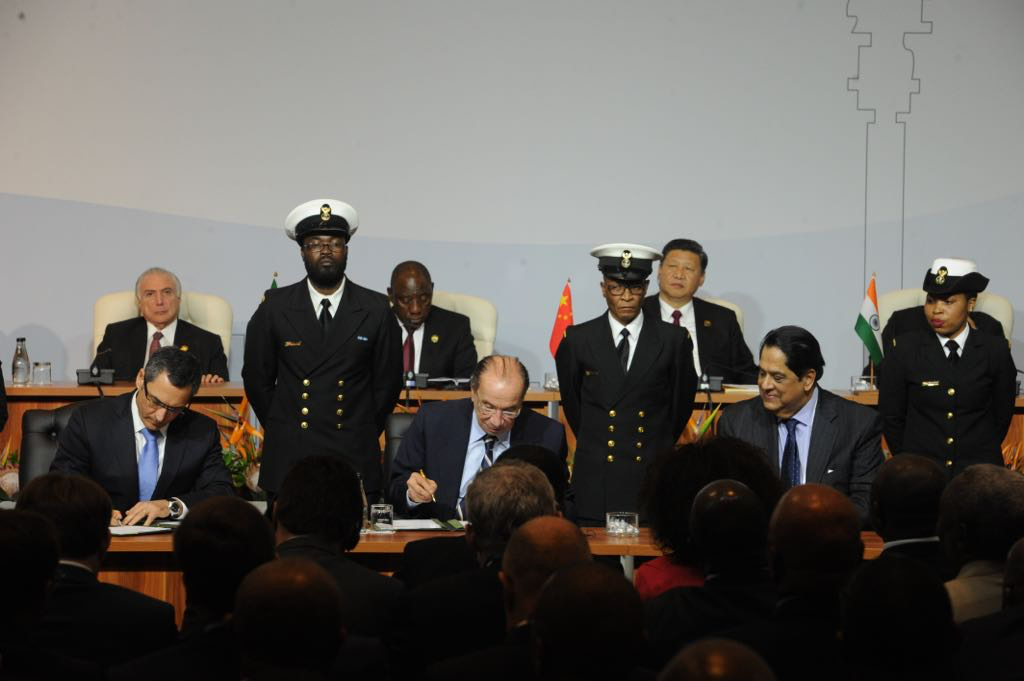 According to the Agreement, the ARO will be located in São Paulo with a sub-office in Brasilia. The Bank may establish premises, upon consent by the Government, in other cities within Brazil, based on the NDB's business needs.
"Signing of this Agreement is a milestone achievement for the Bank, as the Americas Regional Office would greatly increase operational capabilities of the NDB and facilitate identification and preparation of bankable projects in Brazil. Together with the Africa Regional Center opened in Johannesburg, South Africa, the ARO will progressively support a growing range of our work," said Mr. K.V. Kamath.
"We expect a significant increase in NDB´s operations in Brazil, as the Americas' Regional Office will speed up identification, design, and monitoring of projects leveraging on local expertise. Brazil seeks continued cooperation with international partners to promote sustainable development through climate resilient infrastructure, to reduce the regional infrastructure gap and to foster greater global economic integration. The NDB is a valuable partner in this agenda," stated Mr. Eduardo Refinetti Guardia.
"The Americas' Regional Office is further evidence of the NDB's significant institutional development and should help the Bank secure a foothold in the continent from which to expand its operations in the coming years," Mr. Aloysio Nunes Ferreira added.
In accordance with the Articles of Agreement, the NDB may establish offices necessary for the performance of its functions. The first regional office of the NDB – Africa Regional Center – was opened in Johannesburg on August 17, 2017.
As highlighted in the NDB's General Strategy: 2017 – 2021, identification and preparation of bankable projects is the core function of the Bank's regional offices. By working with strategic partners with strong implementation capability and a shared interest in infrastructure and sustainable development, regional offices of the NDB will create possibilities for knowledge sharing and capacity building, enhancing the Bank's overall impact.
Background information
The New Development Bank (NDB) is a multilateral development bank established by Brazil, Russia, India, China and South Africa in 2014. The Bank is mandated to mobilize resources for infrastructure and sustainable development projects in BRICS and other emerging economies and developing countries, complementing the efforts of multilateral and regional financial institutions for global growth and development.