About Us
During its Seventh Annual Meeting held on May 19, 2022, the Board of Governors of the New Development Bank (NDB) approved the Bank's General Strategy for 2022–2026 entitled "Scaling Up Development Finance for a Sustainable Future." The General Strategy sets the course for NDB's evolution into a leading provider of solutions for infrastructure and sustainable development for emerging market economies and developing countries.
Seeking to elevate NDB to a higher standard of operational excellence and development impact, the General Strategy targets enhancements in the Bank's capacity to mobilise resources at scale, finance diversified types of projects, employ sophisticated instruments, maximise impact, and continue building a robust institutional profile.
The General Strategy includes the following main targets, which reflect NDB's primary aspirations for the 2022-2026 period:
➮

Provide USD 30 billion in total volume of approved financing from the Bank's balance sheet over 2022–2026;

➮

Extend 30% of total financing in local currencies over 2022–2026;

➮

Provide 30% of total financing to non-sovereign operations over 2022–2026;

➮

Co-finance 20% of projects (in numbers of projects) with partner MDBs over 2022–2026;

➮

Direct 40% of total financing to projects contributing to climate change mitigation and adaptation, including energy transition, over 2022–2026; and

➮

Increase female representation to 40% of professional and managerial staff by 2026.
The strategy map outlines the building blocks that permeate the General Strategy and the imperatives that will help steer NDB's direction over the five-year period.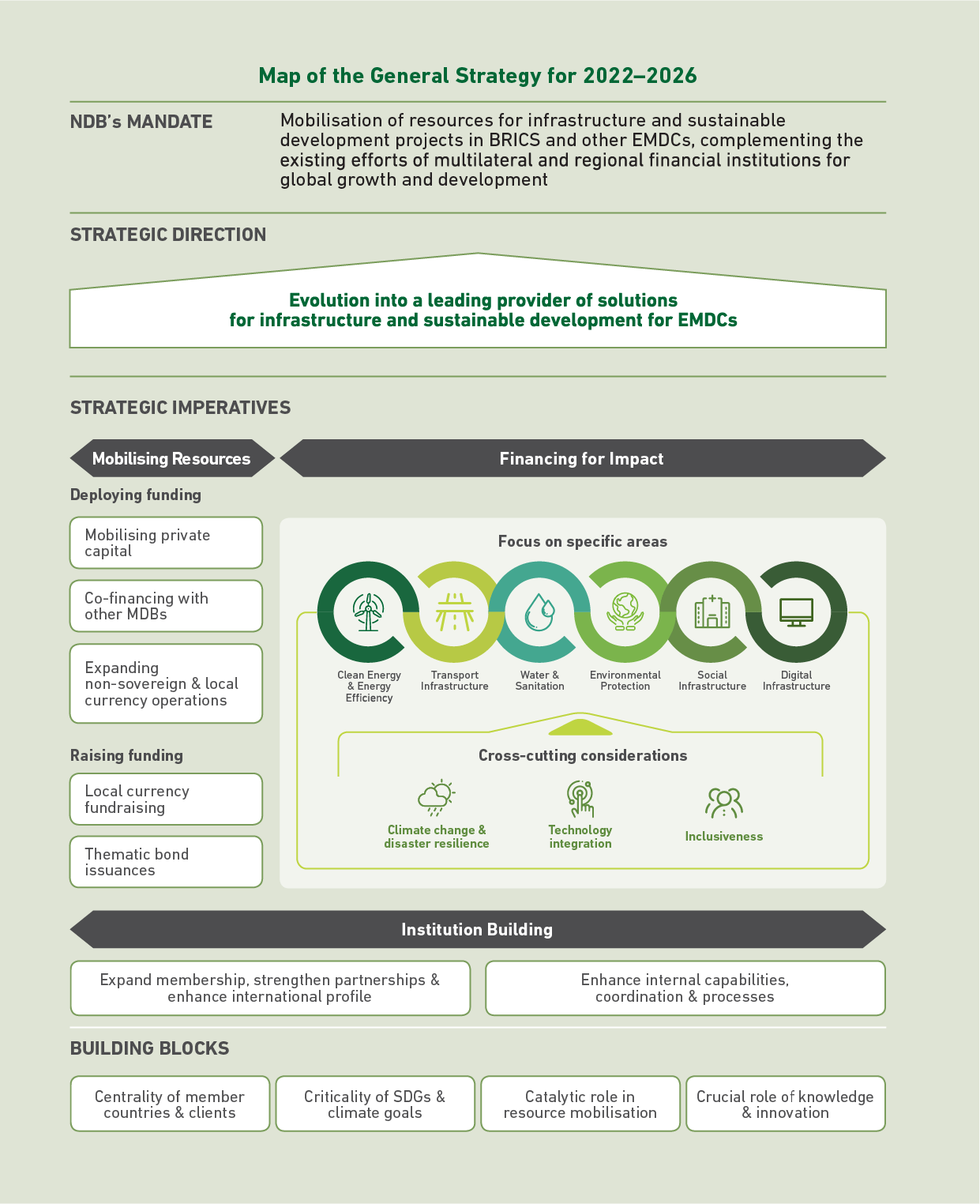 Download the previous General Strategy.