Newsroom Media
Shanghai Solar Project Wins Nation's First NDB Loan
18-Apr-2016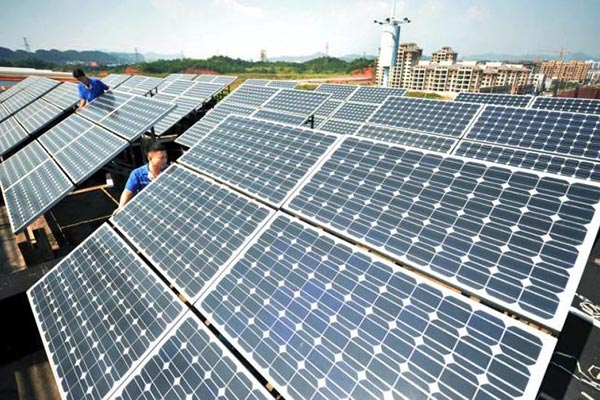 Workers install solar panels on the rooftop of a company in Shangrao, Jiangxi province, October 11, 2015.[Photo/Agencies]
Shanghai Lingang Hongbo New Energy Development Co will receive the equivalent of $81 million in yuan, according to a source at the bank, who did not want to be identified.
The loan is among the first set-worth a combined $811 million-to be approved by the bank's board to fund projects in China, Brazil, India and South Africa.
Russia, which along with the four nations makes up the BRICS bloc, has so far not been included in the initial round of loans, as its projects are still at the appraisal stage, the source said.
It is hoped the first payouts will support 2,370 megawatts of renewable energy projects, the bank said in an earlier statement.
"This is an important milestone for the bank, and we're delighted to have met the goals and the time schedules envisioned by the leaders of the BRICS countries," K. V. Kamath, the bank's president, said in the statement.
The projects receiving the first loans include transmission lines for renewable energy in South Africa, and renewable energy generation projects in India and Brazil. Repayment times range from 12 to 20 years.
The loan to the Shanghai company stands out, as it is the only one denominated in yuan.
In an earlier interview, Leslie Maasdorp, vice-president and chief financial officer of the New Development Bank, said China will be relied on to raise capital for the bank through its "green bond". These bonds, worth 3 billion to 5 billion yuan ($463 million to $771 million), will be sold on China's onshore interbank bond market in May, he said.
The $100 billion bank, which became fully operational two months ago, has been able to grant loans so quickly because it cooperates closely with each country, Maasdorp said, adding that it takes on average two years for multilateral development banks to complete a project, from design to loan approval, but the New Development Bank plans to cut this to six months.
This is possible because initially the bank will lend only to sovereign government-guaranteed projects, he said.
Original Article :
http://www.chinadaily.com.cn/business/2016-04/18/content_24618114.htm