Newsroom Media
BRICS Emerges as a Global Political Force
13-Oct-2016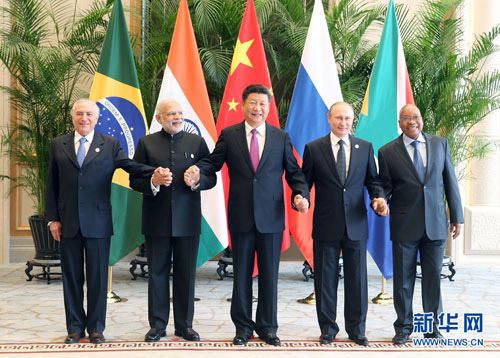 President Xi Jinping (center) takes a group photo with Indian Prime Minister Narendra Modi (2nd left), Brazilian President Michel Temer (left), Russian President Vladimir Putin (2nd right) and South African President Jacob Zuma (right) ahead of the G20 Summit in Hangzhou, Zhejiang, on Sunday. (Photo by Xu Jingxing / China Daily)
The BRICS summit (Special Coverage) in Goa will conclude a month-long series of international meetings of BRICS representatives hosted in various Indian cities, showcasing federalization of India's international relations. These meetings have also covered a range of themes from disaster risk reduction, science and technology, tourism, sports, urbanization, employment generation, cybersecurity, terrorism, energy saving, social security and so on.
In keeping with recent trends, BRICS leaders in Goa will be joined by leaders from the seven-member BIMSTEC (Bay of Bengal Initiative for Multi-Sectoral Technical and Economic Cooperation) regional grouping that includes Bangladesh, Sri Lanka, Bhutan and Nepal and will take this opportunity to explore BRICS regional synergies with India's immediate neighbors. Also, in run up to the summit, the Xavier Centre of Historical Research in Goa is hosting a large gathering of the People's Forum on BRICS 2016, in which activists and academics seek to bring the other perspectives on various social, economic and ecological concerns.
All this shows BRICS is no longer just an economic grouping but is fast emerging as a political force in global decision-making. Some BRICS members have no doubt been affected by the continuing global financial crisis recently, yet they show clear signs of a rebound confirmed by the most recent Global Economic Competitiveness Report 2016-2017 of the World Economic Forum, setting the stage by raising the morale of the BRICS leaders.
In its listing on the competitiveness for 138 countries, the WEF places China at the highest among the BRICS at 28th worldwide. Russia has moved from 45th to 43rd and South Africa from 49th to 47th. India has made the most visible leap, moving from 55th to 39th. Brazil has fallen six places, from 76th to 81st. But
viewed as a collective and against the backdrop of global GDP growth rates continuously falling from 4.4 percent for 2010 to a mere 2.5 percent for last year, BRICS presents an encouraging picture and will encourage its members to continue with their efforts at launching newer initiatives.
Having successfully launched its New Development Bank and Contingent Reserve Arrangement, BRICS now plans to launch its own credit rating agency to end the dominance of the likes of Standard & Poor's or Moody's and Fitch and to bring in emerging economies' perspectives to further enhance their standing and competitiveness in international markets. Similarly, learning from the July 12 Arbitration on South China Sea, BRICS Legal Forum last month endorsed BRICS having its own robust arbitration mechanisms to address the problem of double standards of advanced nations. In addition to a now-functioning disputes resolution centre in Shanghai, such as a BRICS-wise arrangement will include commercial arbitration allowing BRICS to resolve disputes for foreign investors without subjecting them to their inefficient local legal systems but also discouraging them from going through Western dominated global arbitration processes.
Faced with continuing global financial crisis, leaders have also been discussing developing a BRICS bond market to address challenges of debt securities trading to strengthen their existing lack of liquidity making them vulnerable to foreign portfolio investors.
Rapidly growing India also sees the BRICS summit obtaining it new opportunities and responsibilities, and it must build stronger partnership with Beijing, which has been the main force behind most BRICS initiatives. Some of the firsts of this BRICS 2016 summit already include launching of BRICS Young Scientists Forum in Bengaluru and launching the BRICS Employment Working Group in Hyderabad and its first BRICS Trade Fair in New Delhi opening this week. An under-17 BRICS football tournament in Goa and Mumbai will conclude in Goa on Oct 15th.
India has also already benefited from the sixth meeting of BRICS Agriculture and Agrarian Development, deciding to set up a BRICS agricultural research center in India, and a BRICS academic forum decided to set up a BRICS chair and documentation center in New Delhi.
Source : By Swaran Singh